ORNAMENTEN
RESTAURATIE
Restauratie ornamenten en lijstwerk
Er zijn in Nederland nog veel versierde gevels te vinden in verschillende bouwstijlen. In Den Haag is dit vaak Jugendstil, herkenbaar in haar omlijstingen, ornamenten en gevelkoppen.
Wij vinden het een eer deze prachtige details te mogen onderhouden om daarmee de historische waarde van uw pand te beschermen tegen de tand des tijds.
Helaas dienen er soms onderdelen vernieuwd dienen te worden. Om de historische waarde van uw gevel te behouden, gaat behouden altijd voor vernieuwen. Dit vraagt veel kennis over de materialen en technieken die destijds toegepast zijn.
De restauratie van gevelelementen en houtwerk doen wij graag zelf. Voor de meest voorkomende restauraties hebben wij de kennis en kunde in huis.
Toch komt het ook voor dat wij andere partijen uit de restauratie-branche inschakelen. Gediplomeerde bedrijven met aantoonbaar bewijs in 'know-how', maar bovenal liefde voor het restauratie vak.
Klik hier voor meer informatie
Art nouveau lijstwerk, gevelornamenten en koppen
HOUTROT
HERSTEL
Houtrot reparaties
Hout kan vele eeuwen weer en wind doorstaan. Behalve.. als het hout gaat rotten. Dan verandert de structuur van het hout, wordt het zacht en valt uiteindelijk uit elkaar. Houtrot herstel is duur, iets wat beter voorkomen kan worden dan genezen.
Vooral bij oudere panden (tot 1940), is gebruik gemaakt van houtsoorten die van een betere kwaliteit zijn, dan sommige houtsoorten van tegenwoordig.
Daarom stellen wij ons als doel, ook vanuit historisch oogpunt, zoveel mogelijk het originele houtwerk te behouden.
Met de materialen van nu is dit ook goed mogelijk.
Alexander Weenink is als Vakschilder in Den Haag, aangewezen als erkend houtrot specialist.
Onze kennis over het type hout, de houtrot categorie en herkennen van (bouwkundige) gebreken is noodzakelijk bij het weer gezond maken van het houtwerk aan uw gevel.
Hout gaat namelijk niet uit zichzelf rotten, dit gebeurt alleen als het hout constant vochtig of nat blijft bij een temperatuur boven de 16 graden. Hout werkt capillair, wat wil zeggen dat het vocht op zuigt. Dat doet een boom vanuit de grond om te groeien en dat doet hout, als er een barst in de verflaag zit. Iedere barst in de verflaag is daarmee potentieel houtrot. Goed onderhoud voorkomt deze barsten.
Een goede houtrot reparatie blijft wel 30 jaar goed!
Indien er sprake is van ernstig houtrot op meerdere plekken, dan kan het verstandig zijn een houtrot-rapport op te stellen, zo kunnen extra kosten worden voorkomen.
Klik hier voor meer informatie.
Houtrotreparatie in uitvoering
SCHILDERWERK
BUITEN
Schilderwerk buiten
Mooi Schilderwerk, begint met Passie en Bevlogenheid. Dat is liefde voor het schildersvak, up-to-date willen blijven met de nieuwste materialen en technieken, kortom alles, om telkens weer een mooi kunstwerkje af te mogen leveren.
Zeker bij panden van rond 1900 en ouder, is de historische waarde belangrijk, dit vraagt extra kennis en kunde. Hoe brengen we uw gevel terug in de staat zoals de architect het ooit bedoeld heeft.
Goed schilderwerk is belangrijk voor het deugdelijk onderhouden van uw huis, zo heeft het een beschermende functie tegen invloeden van buitenaf, bovendien draagt fraai schilderwerk bij aan het woonplezier en waarde van uw woning.
Wij zijn regelmatig te vinden bij het Verf Advies Centrum. Een onafhankelijk kenniscentrum om advies uit te kunnen brengen voor kwalitatief en prijsbewust onderhoud.
Kennis van nu om belangrijke vragen te kunnen beantwoorden. Zo krijgen wij regelmatig vragen als:
Moet mijn woning weer geschilderd te worden, of wanneer is het ook echt nodig?
Is een raamkozijn aan vervanging toe als er houtrot in zit?
Waarom is het belangrijk het verfwerk af en toe schoon te maken?
Waar moet ik op letten als ik het zelf wil doen?
Waarom rot hout niet in de winter?
U kunt ons altijd bellen als u deze, of andere vragen heeft, geheel vrijblijvend uiteraard of gebruik ons contactformulier.
U kunt bij ons terecht voor alles wat met schilderen te maken heeft, het meeste daarvan vindt u op deze website.
Doordat we een compleet scala van diensten aanbieden, heeft u maar één aanspreekpunt voor alle werkzaamheden en dus ook maar één rekening.
Een ander voordeel is dat al het door ons geleverde werk onder een ruim garantiepakket valt.
In de hele breedte van ons werkgebied streven wij naar de hoogste kwaliteit. Daarmaast vinden wij dat schilderwerk ook mooi mag zijn.
Mooi Schilderwerk begint met Passie en Bevlogenheid.
Klik hier voor meer informatie.
Buiten schilderwerk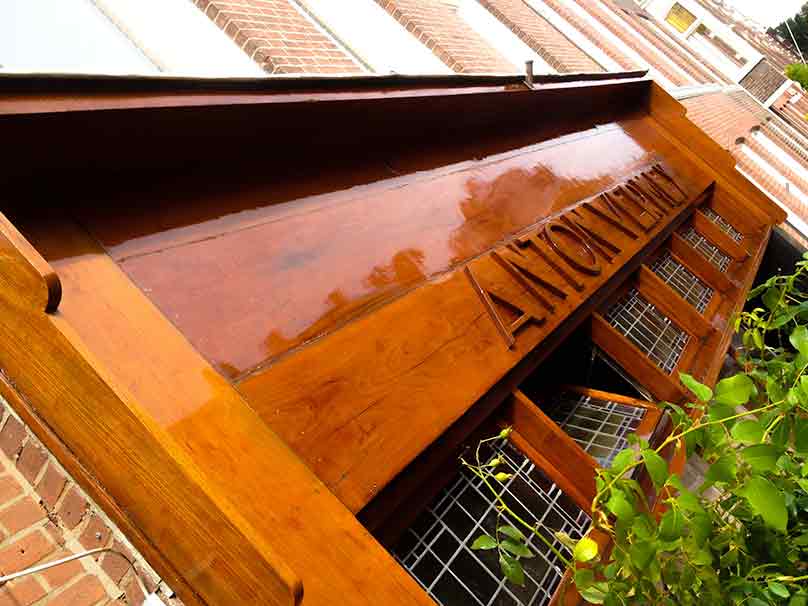 SCHILDERWERK
BINNEN
Schilderwerk binnen
Binnenschilderwerk is een heel andere 'tak van sport' dan schilderwerk buiten. Vaak is de woning bewoond, of aan het werk. Niet altijd even eenvoudig om de overlast zoveel mogelijk te beperken.
Zo zijn onze machines van Festool en voorzien van stofafzuiging om overlast van stof te voorkomen.
Maken wij gebruik van watergedragen lakken zonder oplosmiddelen.
En kunnen wij onze werktijden met u bespreken om de dagelijkse gang van zaken zo min mogelijk te belasten.
Verder maken wij gebruik van verschillende technieken, spuitwerk van hout of wanden en plafonds behoort ook tot de mogelijkheden.
Indien gewenst kunnen wij meubelen ook voor u spuiten in onze werkplaats. In onze werkplaats kunnen wij gebruik maken van oplosmiddelhoudende lakken zoals 2 componenten lakken. Deze zijn uiteraard een stuk duurzamer dan de reguliere lak voor binnen, wat zeker voor het spuiten van keukenfronten de voorkeur verdiend.
Binnenschilderwerk doen wij zoveel mogelijk in de winter. Indien u dit door ons wil laten uitvoeren, dan kunnen wij dit alvast voor inplannen.
Tijdens deze koude maanden kunt u gebruik maken van onze winterschilder-korting.
Klik hier voor meer informatie.
Binnen schilderwerk